Encountering Your Faith
St. Ignatius Summer Education Series
Thursday Evenings at 7:30 p.m.
Canteen
The Liturgy Committee is sponsoring a summer faith education series. This six part series will meet on June 19, 26, July 10, 17, 24, and 31. Topics include: Jonah, The Prodigal Son, Catholic Prayers, An Understanding of Purgatory, Confession, the life of St. Ignatius and more.
St. Ignatius Parish Feast Day
Saturday, August 2
Main Church and Courtyard
St. Ignatius parish will celebrate its patronal feast day on Saturday, August 2 with a bilingual mass at 5 p.m. and a special festival of multicultural food and dancing at 6 p.m. Everyone is invited to attend.
Photo Directory Re-take Dates
August 12-13 from 2-9 p.m.
Canteen
A second opportunity - Please be a part of our new St. Ignatius pictorial directory. You may sign up to have your photo taken on August 12 or 13. To schedule an appointment, please click on the image at left or contact Christine Timcheck at the rectory for more information.
Broadway Cellars Share Day
Saturday, August 9
Broadway Cellars Restaurant
5900 N. Broadway, Chicago, IL
(773) 944-1208
Broadway Cellars Restaurant graciously donates 10% of the total sales from this day to St. Ignatius Parish. Come and dine with your fellow St. Ignatius Parishioners at a beautiful local restaurant.
Hours of operation:
Monday through Friday 5 – 10 p.m.
Weekend Brunch 10:30 a.m. – 3 p.m.
Saturday Dinner 5 – 10 p.m.
Sunday Dinner 3 – 9 p.m.
Family Mass
Second Sunday of each month, 10 a.m. mass
Main Church
Please join us for the family mass on the second Sunday of each month (September - June) at the 10 a.m. mass.
Market Day
Resumes in September
Holy Name Room
St. Ignatius participates in the Market Day monthly grocery fundraising program. A portion of the profits go to assist parish programs. Order food items online through Market Day's convenient website and pick up your purchases from the Holy Name Room once a month. The Market Day program does not take place during July and August. The next Market Day Pick up is in September in the Holy Name Room. Check back soon for the fall schedule.
Liturgical Minister Schedule
July 2014
Wondering when you are scheduled to be a Lector or Eucharistic Minister? Please click on the link above to view the schedule.
31 Days with Saint Ignatius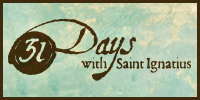 In honor of the feast of St. Ignatius Loyola on July 31, Loyola Press offers a month-long celebration of Ignatian spirituality including articles, blog posts, and videos to help you explore the riches of Ignatian spirituality.
Archdiocesan Video "Draw Near"
St. Ignatius Parish Transformation Process
Shaping the vision of our parish's future, the parish transformation process is an archdiocesan program where each parish discerns its present and creates a vision for the future. Please read the St. Ignatius Parish Mission and Action Plan.
St. Ignatius Parish Capital Campaign
Contribute Now
Support the future of our parish. Please contribute to the Celebrating Our Faith Building Our Future St. Ignatius Parish Capital Campaign. In March of 2012, St. Ignatius launched a multi-year capital fund raising campaign with a goal of raising $500,000 to enhance our parish ministries and continue the maintenance and restoration of our magnificent church. To date, (June 2013), we have raised nearly $400,000 toward our $500,000 goal.